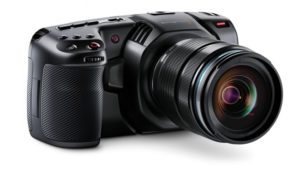 It's been a few months since the Australian company BlackMagic started shipping this amazing new room, to displease all its audience and so many new users, perhaps…
Knowing these rooms well and what they are, I jump to the footy of the embarrassing voices that circulate on the web and make two talks about what it is and what it takes to use this DIGITAL CINEPRESA.
We assume that in spite of the SLR-like appearance, mirrorless have nothing in common except the type of buffer batteries and the lens mount, otherwise it is a digital camera at the price of a camera, otherwise everything this camera does is similar only to concepts of shooting in motion. So as such it must be thought of, treated, managed.
Those who do not understand the concept CINEPRESA, but above all do not want to bang for God far from this object of the devil, which as the name says, is the product of real Black Magic…
Now that we have had a laugh, and that already with a previous ironic post I wrote what offers at a ridiculous price this machine, let's figure out what we need to start making a shot with this Camera, as I already did with the Ursa Mini Pro.
We start with the essential elements with a room: storage, power and lenses.
Storage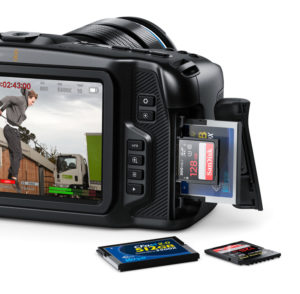 The camera uses both the Cfast2 and the UHS-II SDs to record the movies, of course depending on the support there are write speed limits on the two cards, the SD cards can not record the highest quality in raw, but it is also a matter of figuring out if and when you need to work at that level, after all on SD from 95mb you can also record up to an UltraHD at 30 frames per second in prores 422 , which means exceptional quality for most video productions.
Solution A :
you buy SD cards for continuous and alternating registration in UHD prores format
. Advantage : Cheap, effective solution and allows us to work with many tabs quickly, both for writing and for unloading.
The simple 95 mbts allow recordings up to 4k in prores 4:2:2, a great quality for most applications. Disadvan
tage : they have write speed limits, so if you serve you can not push the room to the maximum.
Solution B :
you buy certified CFast2 cards so that you can register all possible formats, including Raw cards at maximum resolution 4k at maximum number of frames.
Advantage : totally freedom
Disadvantage: cost of certified Cfast2 and … well poor life of the same, in my life several times I had to replace branded cfast.
Solution C :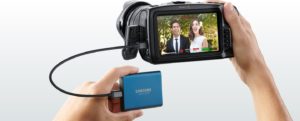 External SSD on Usb-C, which is powered and operated directly by the camera as a device that is seen in place of the SD.
Blackmagic often suggests the samsung T5 which is very small and compact, from what you read in the forums is preferable to the 1TB version to the 500gb version for performance and compatibility issues. Th
anking the various controller manufacturers for ssd, sometimes the machine turns on but does not mount the device because the controller is slow, the simple solution is the hot connection of the disk, that is, with the machine on, this forces the mount of the device.
After firmware 6.1 the problem has been fixed, the mount is done correctly.
Inside a Startech box with uap[fondamentale questo fattore] you can also put the classic Samsung Evo 860 500gb and 1000 tb, which more than well support the fast data rate of the camera, allowing several minutes of recording even in raw uncompressed at 50fps maximum (besides does not hold the data flow, but remember that today turns in 3:1 and 4:1 in raw without problem up to 60fps).
WE REMEMBER VERY GOOD that the mount can be done with a machine on, but NEVER DETACH a heated camera storage device due to data loss and/or damage to the disk structure with relative loss of the data contained. This applies to every device, ssd to cf to sd.
WARNING using ssd disks require a decent amount of current and if the power flow drops, the most trivial risk is that of loss of performance because they go into what in computer is called Throttling, that is to save current reduce performance, so in case of reduced resources (room buffer battery) when you exceed half the capacity of the battery with some disks you may notice a loss of performance , which is not the fault of the camera, or the battery but by how the firmware of the ssd disk is thought.
Power
The blackmagic pocket4k is a camera that records in raw and prores, so it is very voracious of current, it comes with a 2000 mAh buffer battery, of type Canon Ep-L6, with which you can record for about 30-40 minutes.  These types of batteries are very common, they are used with many canon cameras, led panels, monitors etc, and exist in both the original version and in the "compatible" version, but they must be considered buffer batteries, not for direct use, except on gimbal or "light" situations.
The room comes with a 30W power supply, has an average consumption of 22w (according to official indications), and the external current input accepts a voltage between 12 and 20V.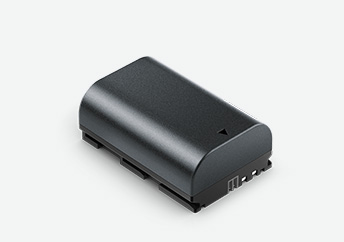 Solution A :
Buy one or more sets of 2000mAh EP-L6 batteries depending on the type of footage you take. Blackmagic itself offers batteries of this type at a low price.
Internal Battery Pro
no external flying cables
no cables that unbalance gimbal
less footprint on gimbal or in manual use
ultra standard batteries for use
recharge in the car by plugging it into the current
Internal Battery Cons
reduced duration vs high cost for watt used
need to disassemble more or less challenging for the exchange
weight of more batteries to carry
longer time to charge multiple batteries at the same time
no long shooting
My suggestion is that if you want to buy batteries it would always be better to take "originals" then either the same blackmagics or canons, which are more expensive than many Chinese clones, but are linear over time, and their ability to preserve the charge and last over the years is superior to the various clones.
As a good Genoa, if I pay a battery 20 euros instead of 70, but the first after 30 uses is unusable, while the second after years and hundreds of top-up is still in good condition, who made the best deal?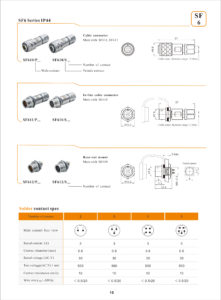 Solution B :
use an external battery of various types, and connect it to the room, and here comes the problem… Oddly enough, Blackmagic Design has chosen a connector other than the other rooms and "less standard", namely the weipu SF610 s2 connector, a connector currently (March 2019) available only to a few Chinese manufacturers.
The connector is identified with the code SF610, the acronym after (p/s) is relative to P -evil and S-female, and the number (2) is the contact pin number.
The feeding part is the female, so if we want to build or look for a wiring we have to remember that the chamber has the male and the current comes from the female.
There are cables already made by Weipu to Dtap, made by well-known accessory manufacturers, such as Woodencamera.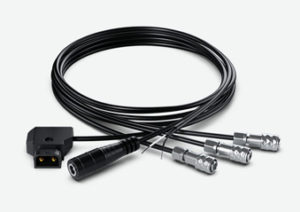 There are various combinations, including a wiring made by Blackmagic Design itself, for the use of different connectors, you can find it at the bottom of the Pocket4k description page.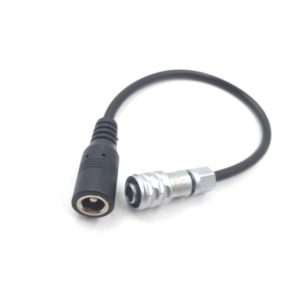 There are adapters from Weipu to classic power jacks so that existing situations can be reused from external batteries to plate etc, so that the parallel use of the products can benefit from the investments already made.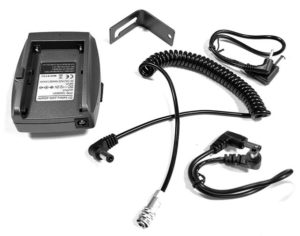 Solution C
: Use a plate for classic NP-F970 6600mAh or 47.5 Wh. These batteries born to dispense 7.2v can be paired with a plate that converts them into 12v dispensing, with a single battery you can record for almost 2 hours (1h and 43 minutes on average). Being this type of semi-universal batteries, used in cameras, goers, LED panels, and with one or more such plates you can use only one type of battery to power more elements and therefore be more flexible in your investment.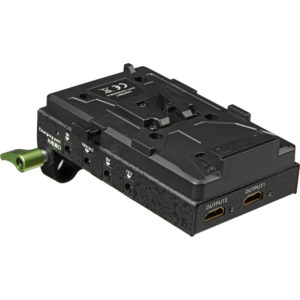 Solution D
:Classic Vmount/Gmount – a current distributor like the Lanparte plate that offers us not only the ability to mount batteries both VMount and Gmount, but above all adds a power distribution to different outputs at 5, 7 and 12v, usb, to be able to power different accessories with a single battery, the classic 95w battery will offer you from 3 to 4 hours of recording life.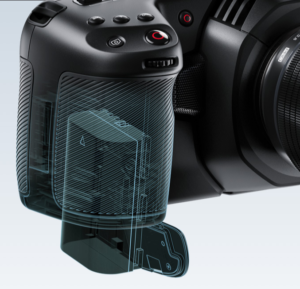 Solution E (partial)
:Enter the Usb-C port with any powerbank just to recharge the internal batteries. From what is described, such a procedure can only charge to the internal battery but does not reach a sufficient voltage to power and manage the room directly.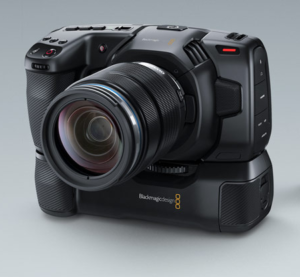 Solution F :
Blackmagic itself has designed and will distribute in August 2019 a battery grip like that of cameras that can offer as much as 2 hours of autonomy with batteries fnp sony, widespread to power monitors and lights for the filmakers.
Battery grip Pro
no external flying cables
ultra standard batteries for use
it easily adds and removes
adds surface to properly hold the camera in the run & gun
Battery grip Cons
another type of battery to add to the collection
another charger to add to the collection
increases the weight of the room
increases the size of the room and unbalances it when used with Gimbal
I remind you that batteries over 95w are not accepted by most airlines, so when choosing batteries that are always checked if and what you are buying according to any air transfer, also take into account that vmount and gmount batteries being world standards it is easy to rent them when they serve you on site, at very low prices.
Audio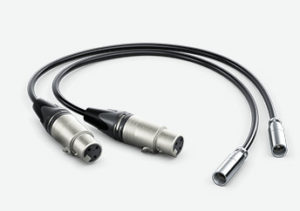 The blackmagic pocket4k has two stereo microphones for recording ambient audio, which can be used by paying attention to how one holds the camera, because they are positioned exactly on the sides of the room and therefore each "touch" on the camera would produce sounds and noises of various kinds, as happens on each room with Surface Microphone.
In addition we have two audio inputs, a classic 3.5mm jack like many dslr and a Mini XLR.
The 3.5mm jack is both a mic and Line In input, so depending on whether you send an amplified audio or a microphone you will have different results, you have to in the menu choose the correct setting or inside the room the recording will be very low as loudness. A Mic In will be amplified, while a Line In expects audio already amplified by an external amplifier.
The Stereo Balanced MiniXlr input is the most professional and useful solution in the internal recording of the room's audio.
When talking or searching for information related to this connector you can find several acronyms, what interests pocket4k owners is the TA3 (3 pins) with suffix relative to the type F (female – female) M (male male).
The camera since it receives the signal owns the female connector and the wiring that we're going to connect being the "hot" part is the male, so we have to have a wiring that is from a normal male MiniXLR microphone to the camera; if we get out of another device remember that the incoming wiring must be a male MiniXlr (to enter the room that has a female) and on the other side there will be what will be there, from a simple jack from 3.5, from 6.5 etc.
Personally I buy many custom wiring from an English maker Cable me, there are many, I had a good time with him.
| | |
| --- | --- |
|   | Another thing that is often underestimated is the strap to bring the room to the neck in the most "run & gun" use, and the one indicated by the link has two advantages, the first that is elastic and then sticking it to the neck can be pulled to give more stability during a free room movement, without sawing the neck, the second is that it has the quick release so that if we put the chamber on gimbal or ease can easily unhook the gimbal or easel we can unhook the "obstruction" problems in operations. |